How To Start Affiliate Marketing With No Money (In 4 Steps)
Without question, affiliate marketing can be a great business. But not everyone can find success. There are many hurdles to overcome: finding the right niche, changing consumer habits, and social media platforms that are constantly shifting, just to name a few.
If you're new to affiliate marketing, you need a step-by-step guide. That's where I come in. I sold my affiliate marketing business for $6 million in 2018. Since then, I have consulted hundreds of businesses about affiliate marketing, and many documented affiliate marketing businesses have sold for seven figures or more.
In this 4-step guide, I'll show you how to start an affiliate marketing business, even if you have little to no money to start out with.
Why Start An Affiliate Marketing Business?
Affiliate marketing is a growing industry.
According to Business Insider, it is estimated affiliate marketing spending will be $8.2 billion in 2022. That's up 3X from $2.5 billion in 2012, only ten years earlier. That's just in the US alone. In 2020, it was estimated that affiliate marketing spending was $17 billion worldwide.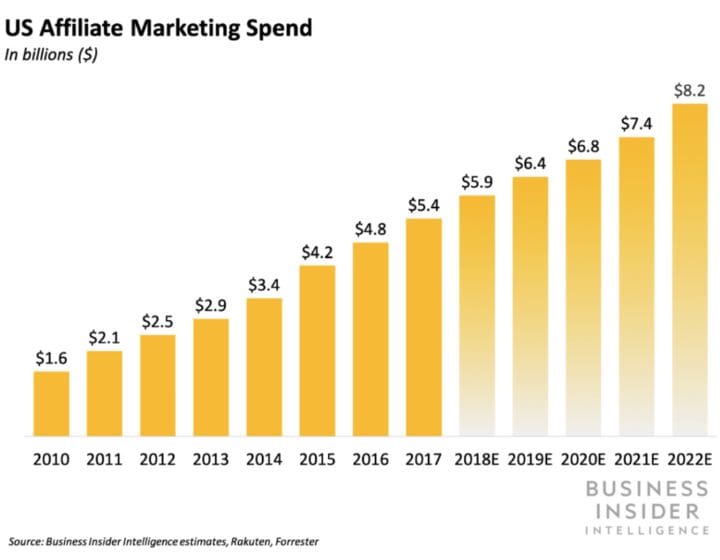 For more tips, check out my article:
Is It Possible To Start With No Money?
Affiliate marketing is one of the few types of business you can start without a lot of money, though you'll need some cash in most cases.
How much? That's up to you. I've said multiple times you can create an affiliate marketing blog for less than the cost of a Starbucks Frappuccino or under $5 per month.
Money allows you to hire others to help grow your business or purchase tools, saving time.
You'll expend more time and effort if you don't have money.
Yes, it's possible to use social media to build your audience for free, but as you will learn, social media poses its own challenges.
I'll discuss this in more detail later in the article, but I recommend that you start a blog and mailing list versus accounts on social media platforms.
Step 1 – Pick Your Niche
This is the most critical step. Once you know your "What," how to start affiliate marketing is easy. The "What" is the hardest part of any business you create.
What is your niche? What is your specialty?
You need to cover a specific niche and only that niche.
It could be something you are passionate about, but it should be something you enjoy at some level. Working in an industry you hate will cause more grief for you. There also has to be a need for such information.
Market Research: Google is your friend, and see if others are doing the same. This may seem counter-intuitive, but find a niche in which there is competition. Gone are the days of unique ideas. You want an idea that already exists. If it exists, that means there's a market for that niche and more than likely room for you.
Your goal is to spot poor execution and execute on that niche better than the competition.
Ultimately it should be helping others solve a problem they have. The most common are:
Health – Losing weight, gaining muscle, meal making, nutrition, supplements
Money – Make more money, save more money, pay down debt, investing, entrepreneurship, cryptocurrencies, real estate investing
Relationships – Find a mate, improve marriage, improve sex life, death of a loved one, divorce.
Technology – web hosting, blogging, software services, computers, smartphones, home electronics, audio, video
Hobbies – travel, boating, photography, golfing, camping, automotive
Home – babies, children, pets, gardening, home decorating
The ideas are limitless, and there are many subtopics to choose from within each of these high-level topics.
I recommend starting with a narrow enough niche that you can cover in detail but not broad enough that it could apply to anyone. For example, it is better to cover weight loss for women over 40 than for anyone at any age.
There are other topics as well that don't fall under these personal topics.
B-2-B (business to business) topics can be especially profitable. However, many influencers and bloggers choose personal topics because they are building a personal brand by speaking on that topic. B-2-B topics can work well but are boring and tend not to garner as many followers as personal topics.
Step 2 – Build Your Audience
Once you've decided on your niche, you need to find your tribe. There are four methods to build an audience:
Organic Search – Creating content on a blog or website via search engine traffic.
Email – Building an email list by collecting subscribers.
Social Media – TikTok, Instagram, YouTube, Facebook, Twitter, Pinterest.
Paid traffic – Google Ads, Facebook Ads, Microsoft Ads, TikTok, Twitch, etc.
If you are starting out and want to save money, I recommend the following approach:
Create blog content to be found by Google search
Build an email list for subscribers
Leverage social media
Why You Must Create A Blog and Email List
Most of my readers, I'm sure, came here looking to become social media influencers. It's currently the hottest trend in affiliate marketing.
I'm not trying to rain on your parade. I'm not saying you shouldn't work with social media. It is a way to create content and start affiliate marketing for free. Yes, it's true blogging has lost some of its popularity, but it doesn't mean it's lost its effectiveness.
The fact is that email converts very well for most niches. So much so that it's often overlooked. I've had countless clients regret not starting their email list sooner.
You should be creating content on social media platforms to attract people to your brand and, ultimately, to your blog and mailing list.
You will always have control over your blog and mailing list, and no one can take them away.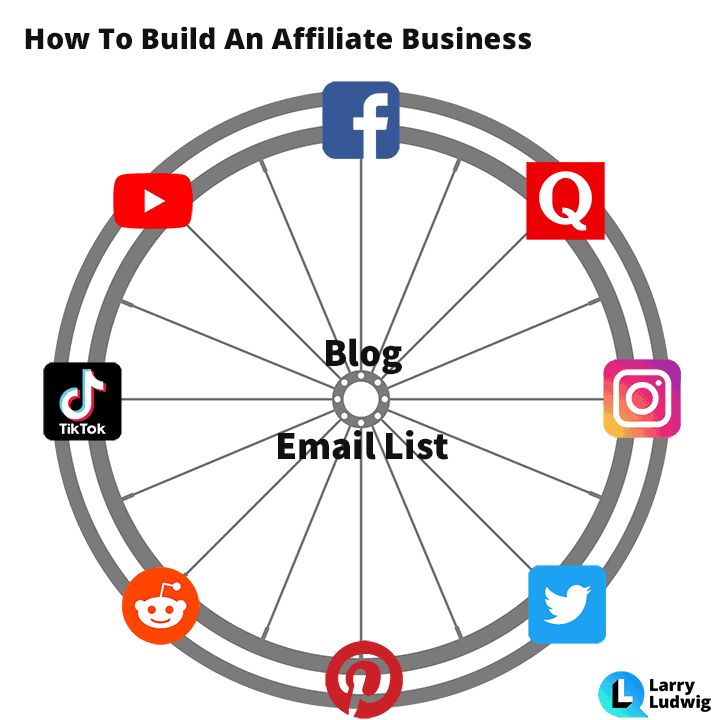 The best way to think of a blog and mailing list is at the hub of a bicycle wheel. The social media platforms, while important, are the spokes to the hub. They drive traffic to your blog and email list.
So yes, you should build audiences on social media platforms. Keep in mind – You don't own social media…you are renting.
On the other hand, a mailing list and blog are something you own. With a blog, you own your content, and with a mailing list, you own your email contacts. You could always move to another host even if you get kicked out of a hosting or emailing list provider.
Over the years, there have been countless examples of influencers who have been de-platformed. One in the recent news has been the influencer, Andrew Tate.
I'm not here to comment on Andrew's views and why he got de-platformed. My point is that you're building a business on quicksand by relying on social media as your only way to build an audience.
A social media audience can disappear overnight. Your reach will diminish if you get banned or the social media algorithm changes (more likely). Since social media platforms are for-profit, they want you to pay to play once their critical momentum is reached. Organic social media reach has reduced to a fraction of what it was in its heyday on Twitter, Facebook, Pinterest, and Instagram.
TikTok is in the beginning phases of reducing its organic reach.
Start An Affiliate Website
Is it possible to start with affiliate marketing without a website? Yes, it is, but I don't recommend it.
In my opinion, you need to build on platforms you own. You need to start a blog.
Building a blog will cost minimal money. I have an article that explains how much it costs to start a blog.
To summarize my own article, on the low end, you are talking about no more than $125 for the first year. On the high end, around $2,500 for the first year in expenses.
Most of your time is spent writing articles that are SEO-friendly.
Organic search traffic, in my opinion, is the most sticky, but it also takes time to create and months before you see the fruits of your labor.
SEO or Search Engine Optimization is the way to create content so Google can find what you write. While you aren't technically writing for Google, you must organize your content so it's easier and "found" by Google.
If done well, SEO can pay dividends for years. Paid traffic is something you can instantly turn on or off, but it also costs money.
Start An Email List
After starting a blog, an email list should be your top priority. In many cases, you can start an email list for free. So there's no excuse.
Here are some popular email marketing services to consider:
| Email Provider | My Rating | Free Emails | Website |
| --- | --- | --- | --- |
There is no reason to start a mailing list while building your social media platforms.
From my experience, I recommend ConvertKit as the best free email platform.
If you want to pay for a mailing list, I prefer ActiveCampaign as the best email platform. ActiveCampaign can grow as your business grows and starts at only $9/month.
Remember, as you grow, you can always move to a paid email provider.
Create Accounts On Social Media Platforms
Now that you've created a blog and mailing list, it's time to focus on social media platforms.
But which ones?
Your decision may depend upon your niche. Pinterest, for example, is both female-centric and visually oriented, making it ideal for niches that favor a female audience.
When I created my investing blog – Investor Junkie, I avoided Pinterest because the investment industry is more male-centric and not at all visual.
I can say, in general, these are the social media platforms that work best with affiliate marketing:
I would only choose one channel when starting out.
Affiliate Marketing on YouTube
Out of those, I prefer YouTube because it's the most affiliate-friendly. You can embed affiliate links directly in a YouTube video description or the first posted comment.
As per my client data, I've found affiliate marketing with YouTube to be a very effective social media platform.
Affiliate Marketing on Instagram and TikTok
Instagram and TikTok, on the other hand, are much harder to get affiliate conversions because of how hard it is to get a link mentioned in a video and for viewers to click on the affiliate offer.
You have to resort to using your profile link with TikTok and Instagram. Based on the affiliate marketers I work with, those platforms can create a lot of followers but yield few conversions.
Conversions are the metric you want with affiliate marketing.
With TikTok and Instagram, you are better off mentioning unique and easy-to-remember URLs in a video or using coupon codes when referring to affiliates.
The other social media platforms either limit reach when affiliate links are used or are not very affiliate marketing friendly.
With any social media platform, ensure you read up on the terms and conditions and that you aren't violating any terms by using affiliate links or promoting content on their platform. Don't be like Andrew Tate and get banned for life because you did not follow their guidelines.
Step 3 – Create Content
Most affiliate marketers should focus on three channels: blog, email, and YouTube.
Your goal is to create great content that helps visitors solve their problems. When people search Google or YouTube, they are searching for a specific problem to solve. Your content should be created to solve that problem.
Your content should be educational and informative but should also keep things interesting. No one likes reading boring content. No one watches a video that's not entertaining. YouTube watchers want infotainment. Your video doesn't have to be the most polished content but should keep the video's pace moving along.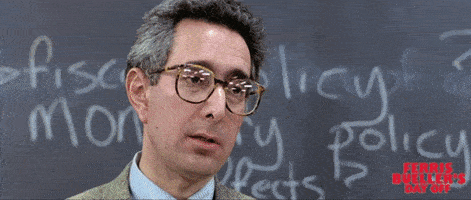 My friend, Matt Giovanisci, is a great example of YouTube that normally is very dry (no pun intended) – pool maintenance.
Matt's content is presented in a lighthearted, easy-to-understand format that anyone can follow. He links to products in his videos and references to recommended pool items on his blog.
Promote
The Field of Dreams movie famously said, "Build it, and they will come." Unfortunately, most content you create won't go viral on its own. You must promote it, but promotion doesn't have to cost money.
Digital marketer Derek Halpern once said you should create content 20% of the time while promoting 80%. Most content creators focus on the reverse. I agree with this sentiment.
So, if you create content on your blog or YouTube channel, you should email your list about the latest content.
Don't be afraid to repeat the same or similar content on multiple channels.
In my experience, followers of your brand subscribe to not just one channel you create content on but multiple channels. Not only does your audience consume content differently, but they also have a life.
While they may have seen that Tweet you posted via Twitter about your latest video, they never got to watch it. Instead, they saw your email blast mentioning that video again, and now, this time, they clicked the link, watched the video, clicked on the affiliate link, and converted.
Step 4 – Find Affiliate Programs
In my opinion, you should build your audience before applying to any affiliate programs.
Only after you start generating traffic and interest in your brand should you sign up for affiliate programs in your niche. The right programs will depend upon your niche.
Do not sign up for an affiliate program because it has a high payout. I've seen this countless times where an influencer will promote an affiliate program only because it pays well. It's not authentic, and your audience will see right through the veil that you are promoting only for money.
Be authentic and promote products you truly believe in and would promote to friends and family even if there was no affiliate program.
Choosing the right affiliate programs will require research.
To help, here is my list of the 9 best affiliate programs all beginners should join.
The affiliate programs I recommend are large networks that have thousands of affiliate partners to choose from. In most cases, you'll be able to find programs for your specific niche.
I'm not a fan of product-based affiliate programs, especially the Amazon Associate's Program. That being said, in some niches, you have no choice but to monetize via Amazon affiliate links. Not only because they are one of the largest online eCommerce platforms, but they convert very well.
For which affiliate programs to join, read:
What Types of Affiliate Programs Work Well?
Generally, it's best to pursue the following types of affiliate programs:
High ticket
High payout
High-converting
High ticket. You typically get paid on a CPA (Cost Per Action) basis with affiliate marketing. That means 5% of a $100 product is only $5. At the same time, a $500 product would make a $50 payout on conversion for the same 5% payout rate.
High payout. Payouts can be either a percentage of the order total or a fixed amount. In either situation, you want the highest possible payout. A $5 payout per order means you must convert many visitors to make any significant income. At the same time, a $500 payout per order can add up very quickly.
High-converting. With affiliate marketing, unlike ad banners, you only get paid if a visitor you send to the merchant converts (i.e., signed up or ordered something).
Final Thoughts on Becoming an Affiliate Marketer
Affiliate marketing can be done cheaply, but can it be done for free? I would have to say no. Affiliate marketing is a low-overhead business to start.
I would start with a blog, email list, and one social media platform that is best suited for your audience.
FAQs